Kopka Pinkus Dolin Launches Outside the Box Employee Benefits
By: Kopka Pinkus Dolin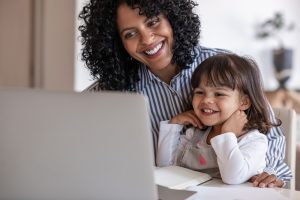 Kopka Pinkus Dolin is proud to announce new initiatives to assist employees and their families while working remotely, including a virtual book club, online homework help, remote tutoring, and a virtual preschool program.
During COVID-19, Kopka Pinkus Dolin recognized the challenges that their employees were facing with limited or no childcare options and how to keep their kids entertained while juggling working from home. KPD provided flexibility and understanding during this time but wanted to do something more. That's when Chief Operating Officer, Donna Markus, came up with the idea for the free, virtual family programs.
"We kept hearing from our employees that their kids are home, bored, and struggling with e-learning or they have a 3-year-old climbing all over them, and we knew we needed to do something," Markus said. "We wanted to fill in the gaps and help parents with this new reality. This is unchartered territory; nobody knows what's going to happen next and no one wants their kids to get behind and sacrifice their education and health. We want to provide resources to help get them through this difficult time."
After reaching out to the employees to gauge interest, Markus then set off to find the people that could bring her ideas to life. The first person that came to mind was Lisa O'Reilly. O'Reilly had been privately tutoring Markus' kids for a few months and had more than enough experience as an educator for 33 years. She jumped at the opportunity and started a weekly story time, which turned into a book club, as well as a homework help program.
For the preschool program, KPD hired Lynnie Leviton from the Northbrook Community Nursery School. Leviton has more than 20 years' experience teaching pre-k through 4-year-olds and is providing kids ages 2-5 twice a week with virtual arts and crafts, yoga, story time, singing, dancing, and fun.
Lastly, KPD hired Alex Pinkus to provide tutoring to high school students and ACT/SAT prep. Pinkus received a master's degree from Johns Hopkins University and has experience both professionally tutoring at Indiana University's Academic Support Center and teaching at Johns Hopkins's Center for Talented Youth summer program.
In the first week of registration, more than 25 employees have signed up for the programs. KPD looks forward to expanding the programs and continuing to assist their employees as the COVID-19 crisis continues.
"We value our employees," Managing Partner Robert Kopka said. "It's because of our employees that we are successful, and we have continued to be successful even during these COVID-19 times. This firm is like a family and we want to support them as such."