Home
>
Blog
>
General
>
President Biden to Issue Executive Order Restricting Non-Competition Agreements – What Wisconsin Employers Should Know
President Biden to Issue Executive Order Restricting Non-Competition Agreements – What Wisconsin Employers Should Know
By: Kopka Pinkus Dolin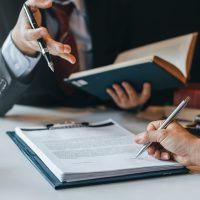 The White House announced on July 7, 2021, that President Biden will be issuing an Executive Order in the near future that will attempt to crack down on non-competition agreements and other restrictive covenants regularly utilized by employers. The Executive Order would pressure the Federal Trade Commission to ban or limit non-compete agreements or otherwise adopt rules to curtail these agreements.
While not much else is known about the pending Executive Order, it has the potential to impact employers throughout the country, as almost half of all private sector businesses use some type of restrictive covenant or non-compete. Non-competition agreements and other restrictive covenants are important tools as they can be used to protect a company's proprietary information, its investment in high level employees, and its customer relations and good will.
In light of this impending Order, and the clear direction taken by the President on this issue, it is a good time to review restrictive covenants in Wisconsin as the state courts have already been moving towards closer scrutiny of such agreements.
Restrictive Covenants under Wisconsin Law
Restrictive covenants are governed by statute in Wisconsin, specifically Wisconsin Statute Section 103.465.
Wisconsin courts have held that the public policy embodied in Wis. Stat. § 103.465 expresses a strong public policy against the enforcement of unreasonable trade restraints on employees. See Tatge v. Chambers & Owen, Inc., 219 Wis. 2d 99, 114-15, 579 N.W.2d 217 (1998). Wisconsin courts have made it clear that the state has an overarching policy concern in regulating overly restrictive and unreasonable non-compete agreements. See Beilfuss v. Huffy Corp., 2004 WI App 118, ¶ 14, 274 Wis. 2d 500, 508, 685 N.W.2d 373, 377.
Wisconsin Court will apply Wis. Stat. § 103.465 to a wide variety of restrictive covenants, including non-competition, non-disclosure of confidential information, non-solicitation of employees, and restriction on soliciting customers agreements or provisions.
It is also important to note that there is no "blue penciling" in Wisconsin. That means that if any section of a restrictive covenant is deemed unenforceable, a Court will invalidate the entire agreement.
Under Wisconsin law, all these types of restrictive covenant must:
(1) be necessary to protect the employer;
(2) provide a reasonable time limit;
(3) provide a reasonable territorial limit;
(4) not be harsh or oppressive to the employee; and
(5) not be contrary to public policy.
Lakeside Oil Co. v. Slutsky, 8 Wis. 2d 157, 162-63, 98 N.W.2d 415 (1959).
Such agreements are viewed by courts as suspect and are generally construed in favor of the employee. Heyde Cos. v. Dove Healthcare, 2002 WI 131, ¶16, 258 Wis. 2d 28, 654 N.W.2d 830.
Time and Geographic Scope of Restrictive Covenants
Typical pitfalls for employers can be overbroad time and geographic restrictions. For example, a provision that "provides that the employee will never, without time limitation, disclose the list of customers to any person" constitutes an unreasonable restraint of trade. Gary Van Zeeland Talent, Inc. v. Sandas, 84 Wis. 2d 202, 218, 267 N.W.2d 242, 250 (1978).
Wisconsin courts, and federal courts applying Wisconsin law have held that "the lack of a time limitation renders a restrictive covenant unreasonable per se." Henderson v. U.S. Bank, N.A., 615 F. Supp. 2d 804, 811 (E.D. Wis. 2009) (citing Nalco Chem. Co. v. Hydro Techs., Inc., 984 F.2d 801 (7th Cir. 1993) (applying Wisconsin law); SYSCO Food Servs. of E. Wis., LLC v. Ziccarelli, 445 F.Supp. 2d 1039, 1052 (E.D. Wis. 2006) (applying Wisconsin law); Gary Van Zeeland Talent, Inc., 84 Wis. 2d at 218-19; Holsen v. Marshall & Ilsley Bank, 52 Wis. 2d 281, 287, 190 N.W.2d 189 (1971)).
Employers must consider how much time is reasonably necessary to protect their interests. Is six months, one year, or two years necessary to protect the business? Anything over two years is almost certainly going to be found unenforceable in Wisconsin.
Likewise, an agreement that covers anywhere in the United States or North America is likely void if the employee did not work across the country. For example, the Wisconsin Supreme Court determined that a non-competition agreement was illegal, void, and unenforceable because one of its provisions prohibited a former insurance agent from associating with or performing services for another insurer anywhere in the United States. See Streiff v. Am. Family Mut. Ins. Co., 118 Wis. 2d 602, 607, 348 N.W.2d 505, 508 (1984).
Special Considerations for Non-solicitation of Employee Provisions
Employers are increasingly imposing restrictions that prohibit past employees from soliciting other employees to leave the employment of the employer. The concern is if an employee leaves, they try to take other employees with them.
The Wisconsin Supreme Court has held that such agreements are usually only necessary for the protection of the employer when they restrict solicitation of highly skilled, top level, or other specialized employees. See Manitowoc Co. v. Lanning, 2018 WI 6, ¶ 59, 379 Wis. 2d 189, 906 N.W.2d 130. Sweeping prohibitions on the solicitation of any employees, regardless of the employee's job or location, are unreasonable on their face. Id. The recent Wisconsin case Manitowoc Co. v. Lanning addressed this issue, and the court held the restriction unenforceable, noting that "[w]ithout a specified territory or class of employees, the provision restricts [employee]'s conduct as to all employees of [employer] everywhere.".
Take-Aways for Wisconsin Employers
With all these types of agreements, employers must be aware that restraining "ordinary competition" is not a protectable interest. Lakeside Oil Co., 8 Wis. 2d at 163.
If you are a Wisconsin employer who utilizes restrictive covenants of any type, the pending Executive Order is a good reminder to revisit your agreements and evaluate them to determine if they would be enforceable under Wisconsin law. The federal government's increased hostility towards non-competition agreements may lead state courts, including Wisconsin's, to scrutinize these agreements even more closely. If the Executive Order further curtails these agreements, all existing agreements will need to be reviewed.
The employment attorneys at Kopka Pinkus Dolin PC's Wisconsin office can assist employers with reviewing their restrictive covenants and revising if necessary to ensure their enforceability to protect business interests. The law has developed and changed over the years, so your current agreements may not reflect the correct legal landscape.
Please contact Kopka Pinkus Dolin for any comments or questions.