Home
>
Blog
>
General
>
Kopka Pinkus Dolin Welcomes New Partners, Matthew J. Jankowski, Orfej P. Najdeski and Steven M. Couch
Kopka Pinkus Dolin Welcomes New Partners, Matthew J. Jankowski, Orfej P. Najdeski and Steven M. Couch
By: Kopka Pinkus Dolin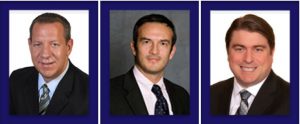 Congratulations to Matthew J. Jankowski, Orfej P. Najdeski and Steven M. Couch!
Kopka Pinkus Dolin is pleased to announce our newest partners: Matthew J. Jankowski and Orfej P. Najdeski of our Indianapolis, Indiana office and Steve M. Couch of our Farmington Hills, Michigan office.
Matthew J. Jankowski is a trial attorney who specializes in handling both civil defense and employment litigation. His civil defense practice includes wrongful death, premises liability, product liability, food contamination, trucking, insurance coverage and bad faith. In employment law matters, Matt defends state and federal claims of employment, housing and other claims of discrimination. Matt has tried over 50 jury cases to verdict, along with a significant number of bench trials and arbitrations.
Orfej P. Najdeski has extensive experience representing clients in civil litigation in wrongful death, transportation, premises liability, professional liability, construction accident liability, and product liability. Orfej regularly represents companies that lease equipment for construction projects, such as cranes and aerial lifts. Additionally, Orfej completed training for the safe use and operation of Boom-Supported Elevating Work Platforms and Self-Propelled Elevating Work Platforms and became certified in Aerial Work Platform Safety.
Steven M. Couch is an experienced litigator who has built his career representing businesses and individuals in litigated disputes including premises liability, general commercial litigation, insurance coverage, auto, bad faith and Michigan No-Fault. Drawing from his experience in fraud investigation, Steve consistently secures optimal results for his clients through the development of innovative methods to expose fraud.
These three exceptional attorneys are knowledgeable in their areas of practice and embody the core values of our firm. We congratulate our new partners for the skill and work ethic they demonstrate. We know that they will continue to use those traits to achieve the best results for our clients.
---
Visit their bios: