Home
>
Blog
>
General
>
Kopka Pinkus Dolin Welcomes New Partners, Lynn M. Combs and Laura C. Hagenow
Kopka Pinkus Dolin Welcomes New Partners, Lynn M. Combs and Laura C. Hagenow
By: Kopka Pinkus Dolin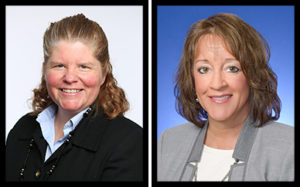 Congratulations to Lynn Combs and Laura Hagenow!
Kopka Pinkus Dolin is pleased to announce our newest partners: Lynn M. Combs of our Buffalo Grove office, and Laura C. Hagenow of our Indianapolis office. We congratulate two of our finest workers' compensation attorneys as partners for the skill and work ethic they demonstrate, and know that they will continue to use these traits to achieve the best results for our clients.
Lynn M. Combs has established a successful career defending self-insured employers, third-party administrators, and insurance carriers in workers' compensation through the appellate level in the states of Illinois and Wisconsin. Lynn possesses a unique knowledge of risk management strategies, and is often asked to educate her clients by speaking at seminars, conferences, and round table presentations. She excels at delivering an engaging presentation that is informative, yet entertaining.
Lynn takes pride in the long-term, working relationships she has built with her clients, and is humbled by the loyalty they have demonstrated over the years. It is their dedication that inspires Lynn to work even harder for them. When it comes to her career, Lynn enjoys investigating and searching for the "smoking gun" and especially loves using the information at trial.
Laura C. Hagenow focuses on the defense of workers' compensation claims throughout the State of Indiana. She has over 25 years of legal experience in defending various civil litigation matters, ranging from employment law, medical malpractice, worker's compensation and general liability. Laura is extremely knowledgeable, and is often asked to give training presentations to her clients.
When Laura arrived at KPD, she worked diligently to redevelop relationships. Laura streamlines her defense work in a cost-effective way in order to consider the needs of her clients, offering them the very best resolution relative to value. This efficient approach has helped Laura establish strong relationships with her clients that she has continued to cultivate throughout her career. Laura is proud to say that, akin to a friendship, her client relationships are built on a foundation of trust.
---
Visit their bios: