Home
>
Blog
>
General
>
Kopka Pinkus Dolin Is Proud to Announce the Addition of Ronald S. Stadler, Jonathan E. Sacks, and Paul J. Pytlik to Our Milwaukee Office!
Kopka Pinkus Dolin Is Proud to Announce the Addition of Ronald S. Stadler, Jonathan E. Sacks, and Paul J. Pytlik to Our Milwaukee Office!
By: Kopka Pinkus Dolin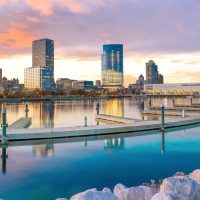 Kopka Pinkus Dolin is proud to announce the addition of Ronald S. Stadler, Jonathan E. Sacks, and Paul J. Pytlik to our Milwaukee, Wisconsin office. Ron, Jon, and Paul join Senior Workers' Compensation Attorney Eric Hafferman with their extensive experience. Ron and Jon add more than 40 combined years of experience in labor and employment litigation. Paul adds to the firm's transportation, and a civil defense practice including but not limited to automobile liability, premises liability, and product liability claims to strengthen our firm and enhance our growing Milwaukee team. The addition of Ron, Jon, and Paul positions the Milwaukee office of Kopka Pinkus Dolin as a powerhouse for all defense matters in Wisconsin ranging from employment and labor law, to transportation, to civil litigation defense.
Ronald S. Stadler has significant experience in handling complex litigation and all areas of labor and employment law. Ron works with a variety of companies, including many from the Fortune 500 list and municipalities, giving him a wide range of experience. He has advised clients on commercial contracts, regulatory compliance, insurance issues, commercial litigation, educational law, constitutional claims and all aspects of labor and employment issues. Ron's labor and employment experience includes matters involving litigation, collective bargaining, union contract administration, grievance arbitration, wage and hour disputes, unemployment compensation, workers' compensation, the Fair Labor Standards Act, the Family and Medical Leave Act, the Americans with Disabilities Act, discrimination, hiring and firing issues, and health insurance matters. He has been repeatedly recognized in the Best Lawyers in America for his defense litigation skills.
Jonathan E. Sacks represents clients in a wide variety of labor and employment law matters, including defense of class actions, wage and hour claims, non-competition agreements and restrictive covenants, unemployment compensation, hiring and firing, sexual harassment, and conducting internal investigations. His experience includes counseling and defending alleged violations of the FLSA, FMLA, ADA, Title VII, and other discrimination issues. He frequently represents private and public sector employers in federal and state court and in administrative proceedings.
Paul J. Pytlik has over 37 years of litigation experience with a focus on transportation liability, product liability, premises liability, construction claims, professional liability, medical malpractice, toxic tort and environmental claims, and complex insurance coverage litigation. Paul has tried over 125 cases to verdict and has represented his clients in numerous arbitration proceedings. Of note, just three years after law school, he tried a multi-million-dollar construction lawsuit involving a high-rise condominium project as counsel for one of the primary defendants. This case, which resulted in a favorable defense verdict, lasted in excess of eight weeks, and is still one of the longest trials in Wisconsin legal history. Paul has numerous reported published and unpublished opinions from the Wisconsin Court of Appeals and Wisconsin Supreme Court, as well as the Federal District and Appellate Courts and has been awarded an AV rating from Martindale Hubbell.
Ron, Jon, and Paul come with a diverse and robust base of clients, many of which are new to the firm. They also will be a part of expanding and improving relationships with some of our current and valued clients.
Kopka Pinkus Dolin is honored to welcome Ronald S. Stadler, Jonathan E. Sacks, and Paul J. Pytlik. They bring a wealth of knowledge and expertise within their disciplines, and we are confident they will be excellent additions to our team. We know they will embrace our core values and commitment to the concierge service we provide our clients.