Illinois Law Updates
By: Kopka Pinkus Dolin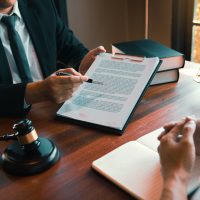 Illinois Prejudgment Interest Update
The Cook County Law Division recently issued a notice relative to motions requesting relief from the Prejudgment Interest Act Amendment.
The motions include but are not limited to:
Staying the application of the judgment Interest Act Amendment;
Tolling of requirement(s) of the Judgment Interest Act Amendment;
Declaring the Judgment Interest Act Amendment unconstitutional;
Applying the finding of unconstitutionality of the Judgment Interest Act Amendment entered on May 27, 2022 in the case of Hyland, etc. v. Advocate Health and Hospitals Corp., et. Al, 2017-L-003541, to any case prior to trial.
A few key items to note:
The notice states that all motions may be filed (and continue to be filed) in applicable cases and the motions shall remain pending and continued generally, with all issues preserved, until all avenues of appellate review relative to the PJI Act have been exhausted and a final order from the supreme court is issued.
Attorneys shall NOT notice or submit such motions before the Law Division judges, nor submit orders for entry on these motions.

This appears to mean that the filing of the motion is sufficient to preserve the issue without the need for presenting it or having an order entered on it.

All orders previously entered on these motions are deemed vacated, and the motions will remain pending and continued generally (with all issues preserved) until appellate review is exhausted.
Motions filed in cases assigned for trial shall remain with, and be decided by, the assigned trial judge.
Illinois Supreme Court Expands Transportation Liability
In the recent McQueen v. Green, 2022 IL 126666, the Illinois Supreme Court held that Plaintiffs may pursue separate claims for negligent hiring, negligent supervision, and negligent retention against a transportation carrier/employer for the employer's conduct in failing to reasonably hire, supervise or retain an employee, even when the company or employer admits vicarious liability for its truck driver or employee.
As a result, Illinois courts will now allow Plaintiffs to bring both a vicarious liability claim and direct negligence claims against transportation companies. This will have significant impact on transportation carriers in Illinois and may expose these carriers to further liability.
Please be advised to pay close attention to this new law on future cases. Should you want to reach out to any of our experienced transportation attorneys, please reach out to them via the links below.
For more information on these or other Illinois law updates, please reach out to our Illinois office.
To schedule a presentation Illinois Prejudgment or Transportation Liability please email Aimee Beauchamp at aabeauchamp@kopkalaw.com