Home
>
Blog
>
General
>
Congratulations to Indianapolis Attorneys, Leslie B. Pollie and Jessica N. Hamilton, on Recent Trial Success
Congratulations to Indianapolis Attorneys, Leslie B. Pollie and Jessica N. Hamilton, on Recent Trial Success
By: Kopka Pinkus Dolin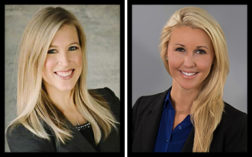 Congratulations to Managing Partner Leslie Pollie and Associate Jessica Hamilton on their recent trial success on behalf of a prominent retailer. In this premises liability case, the plaintiff tripped on a rubber-backed floor runner while she and her husband were exiting the store. As a result of the fall, the plaintiff sustained a bruised right knee, bruised finger, and a rotator cuff tear that required arthroscopic repair. She recovered well from surgery, but claimed that the injury caused permanent impairment in her range of motion and strength.
At trial, Plaintiffs presented the testimony of five employees, who admitted that they were aware that the floor mats were capable of moving with foot and cart traffic. For the most part, they admitted that they had seen other store patrons pull edges of mats up, although it was not a common occurrence. They denied any other falls with injury on the mats. Plaintiffs argued that the store was aware of a "trip hazard" and failed to protect its patrons from that hazard. They requested that the jury award the plaintiff $400,000 for her injuries, and a "fair" judgment to compensate her husband for his claimed loss of consortium.
The defense denied that the floor mats constituted an unreasonably dangerous condition under Indiana law, and contended that the appropriate heavy-duty, commercial mats with a non-slip rubber backing were used. The black mats contrasted with the white tile floor and were only used when necessary. When they were not necessary, they were pulled up by employees and put away. The mats were provided by an outside vendor, and were laundered and replaced with mats in "like new" condition on a weekly basis. The defense argued that the law does not require the elimination of all potential "trip hazards," but instead requires the exercise of reasonable care.
The jury deliberated for less than 30 minutes (including the time necessary for the jurors to choose their dinner selections) before returning a defense verdict.